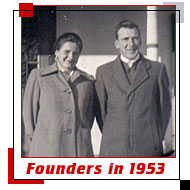 Daniel and Mary Ellen Hoover founded Hoover Welding Service in 1953. While working as a plumber, Daniel started taking welding jobs in his free time. Feeling there was enough business to support their growing family, Daniel started welding full time. For the first six years they lived in half of their 2160 square foot quonset building and ran the business out of the other half. Services ranged from small welding jobs to the manufacturing of products such as feed bins and automatic water troughs for cattle.
After a local steel supplier went out of business, Daniel and Mary Ellen took advantage of the opportunity to meet the new demands for structural steel. Construction began for 11,000 square feet of additional warehouse space and an office. As the demand for structural steel, shearing, bending, sawing and punching increased, Hoover Welding Service incorporated to form Hoover Steel Inc. in 1978. As a result, the focus shifted from finished fabricating work and welding to a steel warehouse and service center.
In 1989, additional warehouse space and a new office was completed, allowing Hoover Steel Inc. to stock a larger inventory for quick deliveries as well as more advanced systems to manage the growth.
Education and planning for succession was the focus in 2000. The founders, Daniel and Mary Ellen Hoover retired in 2001 after 48 years of business. We are still a family owned and operated business, currently by the second and third generation.
Over the years our business has changed and grown but we remain committed to the foundation it was built upon; to provide dependable steel service to every customer with integrity, friendliness and fairness. We continue this tradition with determination to take it into the future.